Supplemenatary Nutrition Programme
The Social Welfare Department is the nodal Department in the implementation of Supplementary Nutrition Programme in the State. There are two types of supplementary feeding implemented by the Department of Social Welfare.
1. Supplementary Nutrition for
ICDS

projects in rural areas through Anganwadi Centres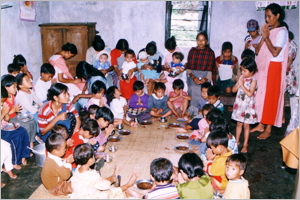 Supplementary Nutrition Programme is provided to children below 6 yrs of age, pregnant and nursing mothers and adolescent girls of low income group to improve health and nutritional status. The scheme is implemented through the network of Anganwadi workers under the ICDS and urban areas through the NGO's in the entire seven districts headquarter of the state with 300 feeding days in a year.
Coverage of beneficiaries(both AWCs & Mini AWCs)
Coverage of beneficiaries (both AWCs & Mini AWCs)
Items
No. of feeding days
Grand Total
428607
 
 
0 – 6 years children
353529
Bengal gram, groundnut, eggs, rice chali, sweet potato, atta, soyabean, rajma, kabuli, jaggery.
300 days in a year
Pregnant and Nursing Mothers
61136
Bengal gram, groundnut, biscuits/ milk
300 days in a year
Adolescent Girls
13942
Bengal gram, groundnut, biscuits/ milk
300 days in a year
2. Supplementary Nutrition in Urban Slum Areas through
NGO

's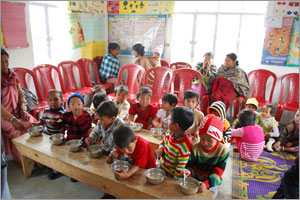 The two newly created Urban ICDS Projects Shillong and Tura has been merged to SNP ICDS.
Districtwise Centres and their beneficiaries
Districts
No. of Centres
No. of beneficiaries
Children
Expectant and Nursing Mothers
Grand Total
41
7530
1270
3. National Nutrition Mission (Nutrition Programme for Adolescent Girls)
National Nutrition Mission a new scheme introduced by the Government of India during 2002-03 for implementing subsidized foodgrains to adolescent girls, expectant and nursing mothers belonging to Below Poverty Line families and undernourished. The objectives of the programme are to reduce in malnutrition, elimination of micro nutrients deficiencies relating to iron, iodine, vitamin A etc. and reduction of chronic energy deficiency. In Meghalaya, East Khasi Hills District has been selected for covering seven ICDS Projects. The programme is to be implemented in the lines of growth monitoring, weighing and identification of undernourished by distribution of 6 kgs of food grains (wheat/rice) based on local habitual through Public Distribution System. Training in growth monitoring, weighing, health and nutrition education, health check up, referral services and to conduct IEC programme and purchase of weighing scales. The programme is to be implemented through a convergence approach with the Department of Food and Civil Supplies and the Deputy Commissioner of the concerned district for necessary arrangement of food grains and distribution through Public Distribution System. The total no. of adolescent girls received foodgrains as on September, 2008 is 2750.