Women Welfare and Development
1. Training for Self Employment of Women – Shillong, Jowai and Tura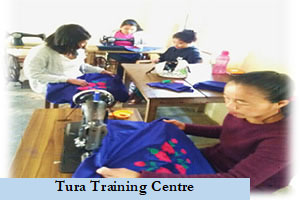 In order to cater to the needs of destitute, orphan, widow, deserted wife and women in distress the Department have set up the three training centres to provide vocational skills and training in knitting, tailoring, embroidery and weaving so as to enable them to be self supported and self employed.
Number of Trainees in each centre and Trades being offered to them
Centre
Capacity
Trade offered
Scholarship/Stipend
Achievement
Shillong
40
Tailoring, knitting and embroidery
Rs.500/- per trainee per month
974 nos
Tura
40
932 nos
Jowai
25
694 nos
No. of trainees covered annually
105
 
Duration of training
 One Year
On completion of training, the passed out trainees are given a token grant of Rs.3500/- to Rs.5000/- each to enable them to start their own ventures.
2. Computer Operator and Programming Assistant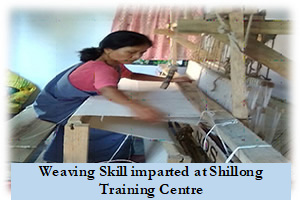 The Department in collaboration with Ram Krishna Mission, Shillong introduced the scheme in 1995 for providing training in computer Operator and Programming to destitute, orphan, deserted women so as to enable them to be economically independent.
Number of trainees trained as computer operators in Shillong

| Unit | Capacity | Duration | Stipend | Achievement |
| --- | --- | --- | --- | --- |
| One unit in Shillong | 10 nos. | One Year | Rs.500/- per trainee per month | 56 nos. have been trained, and 10 nos. have been employed in Government set up and Private agencies. |
3. Swayamsidha (IWEP) Integrated Women's Empowerment Programme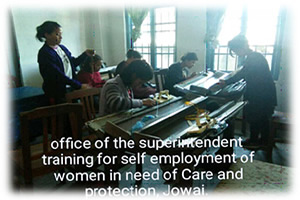 The Scheme aims at empowering women socially and economically through the establishment of Women Self Help Group, Integration and Convergence of other related schemes available with the different Departments.
Swayamsidha are implemented in 5 (five) C & RD Blocks viz. Mylliem, Mawshynrut, Betasing and Resubelpara through the Child Development Project Officers and Umling through Bosco Reach Out.
The target for achievement per block

| Self Help Group | 100 per Block |
| --- | --- |
| Village Society | 50 per Block |
| Block Level Society | 1 per Block |
4. Working Women's Hostel (WWH)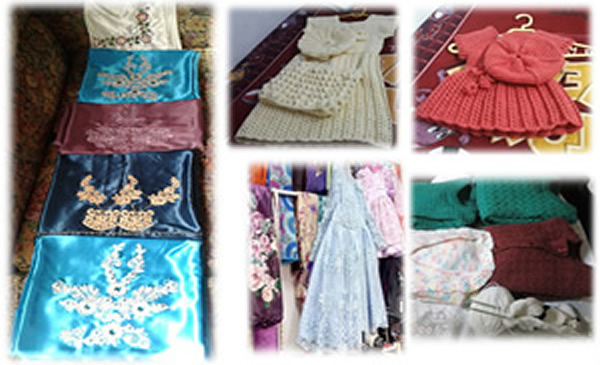 Under the Scheme of financial assistance to voluntary organisation the Ministry of Women and Child Development (MWCD) provides assistance in the form of grants-in-aid for construction of hostel building for workingwomen. The objective of the scheme is to provide safe and economical hostel accommodation to women employees who posted outside their hometown. In Meghalaya three NGO's viz. Young Women Christian Association, Khasi Jaintia Presbyterian Synod Shillong and Garo Baptist Convention Tura were funded by MWCD. The Young Women Christian Association and Khasi Jaintia Presbyterian Synod Shillong had accommodated 54 workingwomen and 84 respectively.
5. Support to Training and Employment Programme for Women (STEP)
The programme of STEP launched in 1987 aims to upgrade the skills of poor and marginalised women. The objectives is to provide employment to them on a sustainable basis in the traditional sectors of agriculture, veterinary, fisheries, handlooms and handicrafts. Meghalaya Apex Handloom Weavers and Handicrafts Co-operative Federation received assistance from Govt. of India under STEP for training women in Handloom and Sericulture.
6. Women Economic Empowerment (NORAD)

Under the scheme which is assisted by Norwegian Agency for International Development (NORAD) projects of skill development and training of achieving self-reliance through income generation for women are supported. These projects of training for income generation are in the non-traditional trades and are funded by the Department of Women and Child Development. The State Level Empowerment Committee for NORAD was constituted and a number of NGO's were recommended to Govt. of India for sanction under the scheme. Viz; St. Xavier of Christ Jesus West Garo Hills and Salesian Sisters of Northern India Auxilium Convent Nongthymmai, Seng Kynjoh Shaphrang Ki Kynthei Kyndong Tuber, Jaintia Hills, Okkapara Mahila Samity, West Garo Hills, Garobadha Women Society, FNA Out Reach for under privilege Women and Children (OUWC), Golflink Belfonte and WISE Social Service Centre, St. Mary's Convent, Laitumkhrah.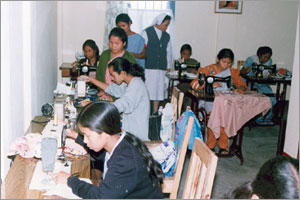 During 2009-10 two more organisation receiving grant –in-aid under NORAD Scheme i.e. 1) Bakdil P.O. Lower Chandmary, Tura and (2) Women's Economic Development (WEDs) Modaltilla Hawakhana, Tura.